#74: Inspiration and Motivation [Video + Podcast]
Welcome to Episode #74 of the Fight for a Happy Life podcast, "Inspiration and Motivation."
Do your friends talk about getting into shape? Starting a business? Writing a book?
Tell them to give up!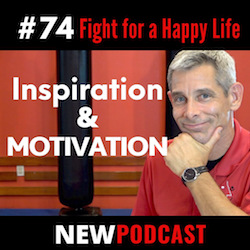 Don't worry—you're still a good person. But you should know that there's a right time to help and a wrong time to help. In this episode, I'll tell you the difference.
Really, this advice won't only help you save time and energy, it may spare you from heartbreak, so let's get into it!
To LISTEN to "Inspiration and Motivation," you can either:
Play the show below. Or download to your device.
Subscribe on iTunes or Stitcher or Google Play Music or Spotify.
To WATCH the video version, scroll down below.
If you'd like to support this show, share the link with a friend or leave a quick review over on iTunes. Thank you!
Oh—and don't forget to sign up for free email updates so you can get new shows sent to your inbox the minute they're released.
Thanks for listening! Keep fighting for a happy life!
Inspiration and Motivation
Here's the video! If it won't play, try this direct link.

The post #74: Inspiration and Motivation [Video + Podcast] appeared first on Sensei Ando.
Read more: senseiando.com