Best Crystals to Give as Gifts to Friends and Family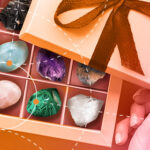 A Gift from the
Heart
Crystals make gorgeous gifts that are timeless, and they will forever stand as a reminder of your love. If your loved ones are open to crystals and their spiritual meaning, wonderful! If not, they might just enjoy pretty gemstones or rocks. You can choose a crystal simply because you feel drawn to its beauty, or because it's your loved one's favorite color. You can go deeper and ask yourself what your family members and friends most need in their lives and give them a crystal that helps with their particular situation.
If you know that a loved one is
suffering through an ordeal, but you sense they don't want to talk about something
sensitive or it could be painful to have it mentioned, you can give them a
crystal that you know will support and uplift them through it. Meditate your
intentions into each crystal and they will carry on with manifesting these
energies for you. This is how your crystal gift can aid in giving silent but steadfast
comfort to your loved one. Think of it as your spiritual stand-in that is
physically there for those you care about during times you are away.
Gifts for Any Occasion
Some crystals are excellent multi-taskers and can be used for more than one purpose. You may wish to acquire a few different crystals and set them aside for impromptu gifts. You'll be glad you did, because you may not have time to run out and shop for that forgotten birthday, anniversary, or an important event that suddenly springs up without advance notice. With a treasure trove of lovely gemstones (including the multi-purpose variety such as Clear Quartz, Amethyst, or Lapis Lazuli) that you've previously chosen at hand, it will make your life much easier. I promise.
Endless Variety
If you simply want to surprise them with a lovely showpiece for their home, the next time you are in their abode, take extra special notice of their décor to see what the most appropriate choice of crystals for them might be. Some might like big showy pieces such as large geodes, some would be happy with points, while others will feel content with small raw or polished gemstones. You can even give crystals in the shape of a heart. For example, Rose Quartz is perfect to give in a heart shape.
If your intended giftee isn't into crystals in their rock form, crystals can be given in the form of jewelry, such as bracelets, necklaces, earrings, pendants, rings, and pins. You might want to find out their birthstone and give them that. Or simply a crystal in their favorite color. Can't decide? Then a velvet bag filled with small gemstones of many colors might be just the thing.
Whatever form you choose, you can rest assured that your gift will be cherished and that they are sure to think of your love for them every time they gaze upon it. Here's a list of lovely gemstones to assist you in finding the best crystals to gift to friends and family.
Love
To help create greater love bonds with
family and friends, these crystals can work wonders.
Rose QuartzAmethystTurquoise Golden Yellow TopazSunstoneBlue ChalcedonyLapis LazuliRomance
Romantic Love
To show romantic love for your sweetie-pie-honeybunch, these crystals are prized for their known ability to make hearts beat faster.
Rose Quartz Fire QuartzDiamondRubyGarnet
Prosperity and Abundance
These lovely crystals are believed
to bring great good fortune. Use them for manifesting more prosperity into your
lives, including blessings of wealth, rewarding work, high motivation, strong
energy, and financial abundance.
Tiger's EyePyriteMalachiteGreen AventurineBlack AgateCitrineAmethystPeridotBloodstoneEmeraldAmetrineCarnelianGreen Jade
Healing, Health, and Well-Being
Use these crystals for their healing energies to promote good health and wellness for you and your loved ones.
Crystal QuartzTurquoiseBloodstoneHowliteAmethystCarnelianPhantom QuartzGarnetRubyAquamarineApophylliteRed JasperBlue ApatiteAura QuartzHarmony
De-Stress
These crystals are thought to be ideal to ease stress, anger, hurt, frustration, and worry so that harmony can reign. They promote peace of mind and spirit.
SeleniteFluorite LabradoriteRose QuartzAmethystAmazoniteAura QuartzAngeliteLepidoliteLarimarMoonstoneBlue TopazPeacock Ore (AKA Bornite)
Communication
For deeper, more meaningful, and consistent communication, try these crystals. They are splendid for helping gently reveal the truth.
Lapis LazuliAzuriteBlue SapphireCelestiteSodaliteChrysocollaLarimarBlue KyaniteBlue Lace AgateAquamarine Unakite
Protection
To help keep your family and friends safe, these crystals are known to act as guardians, grounders, and stabilizers.
Black Tourmaline Shungite Hematite AmethystSmoky QuartzYellow JasperBlack OnyxFire AgateBlack JadeMalachite Black Obsidian
Inspiration and Creativity
For inspired creativity, the release of inner blockages, and increased energy to pour one's vision out into the world, these gemstones are marvelous.
Citrine AmazoniteCarnelianAmethystBlue ApatiteOrange CalcitePeacock Ore (AKA Bornite)Rainbow QuartzAura Quartz
Master Healer and Master Manifester
If you want to give just one crystal
to cover every concern, Clear Quartz is the one to choose. It is the Master Healer
and Master Manifester.
Want to build a better future? A life path reading with one of our talented life path psychics can tell you where you're headed. And if you don't like where you're headed, your life path psychic can steer you down a better path.
Find a life path psychic or learn more about a life path reading.
About California Psychics
California Psychics is the most trusted source of psychic readings. We have delivered over 11 million discreet and confidential psychic readings by phone since 1995. More than a prediction, we are your guide for life's journey. Learn more about how psychic readings work and explore the California Psychics blog. With over 500 psychics online to choose from with real customer reviews, you're sure to find the best psychics for you. Call one of our trusted and accurate psychics today! Confidential and secure, real psychics, accurate predictions, 100% guaranteed.
The post Best Crystals to Give as Gifts to Friends and Family appeared first on California Psychics.
Read more: californiapsychics.com