Daily Devotion – Facing The New Year With Courage and Hope
After you have finished reading today's devotional, hop on over and listen to our weekly podcast. This week's episode is: "Mouth to Beak Resuscitation."
iTunes: Click HereGoogle: Click here (also available on most other podcast apps)
Today's Scattered Seeds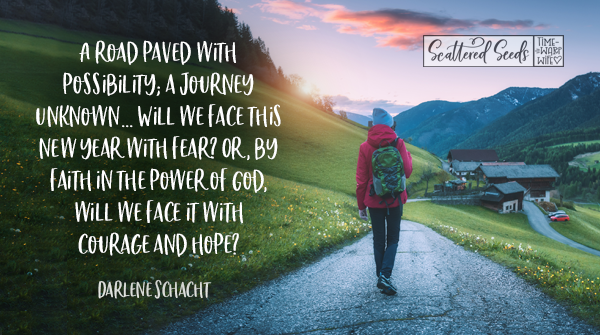 As I'm going about my week, my thoughts keep circling back to Numbers Chapter 13, where Moses sends out 12 men to explore the land of Canaan. Moses had questions for them: What was the land like? What were the people like? Were they strong or weak? Were there few or many? Was the city fortified? Was the soil good? As they planned to invade the land, they needed to know what lay ahead.
After 40 days, the 12 men returned to report what they saw. While the land was flowing with milk and honey, it was also met with difficulty. And so, instead of putting their faith in the power of God, ten of them foolishly chose to rely on the power of man.
Two of them, on the other hand looked forward with faith and anticipation. They believed in the power of God, and knew that with Him on their side, nothing could stand in their way.
The apostle John writes, "Greater is he that is in you, than he that is in the world."
Much like the twelve men in this story, we all have decisions to make when it comes to our future. We all have to decide if we're walking in faith or walking in fear.
A road paved with possibility; a journey unknown… Will we face this new year with fear? Or, by faith in the power of God, will we face it with courage and hope?
Subscribe so you don't miss a post:

Tilling the Soil
Read the story of Moses and the 12 spies in Number Chapter 13.
Planting Hope
Ye are of God, little children, and have overcome them: because greater is he that is in you, than he that is in the world. (1 John 4:4, KJV)

Darlene Schacht and her husband Michael live in Manitoba Canada where the summers are beautiful and the winters are cold. Together they've come to learn that relationships aren't always easy, but that marriage, the way God intended it to be, is a treasure worth fighting for.
She began her publishing journey about twelve years ago when she pioneered one of the first online magazines for Christian women, known at the time as "Christian Women Online Magazine." After three years, Darlene left CWO to blog as a solo author at Time-Warp Wife Ministries.
It was also during this transition that she worked alongside actress Candace Cameron Bure to write the NYT Best-Selling book, Reshaping it All: Motivation for Spiritual and Physical Fitness. Reshaping it All was the winner of both the 2011 USA Best Book Awards and the 2012 Christian Reading Retailers Choice Awards.
Author of more than 15 books, Darlene continues to write and to minister to her readers through her blog at TimeWarpWife.com.
Connect with Darlene:
Facebook: @timewarpwifeInstagram: @timewarpwifePinterest: @timewarpwifeTwitter: @timewarpwife
You are loved by an almighty God,
Darlene SchachtThe Time-Warp Wife
You just finished reading Daily Devotion – Facing The New Year With Courage and Hope! Consider leaving a comment!
The post Daily Devotion – Facing The New Year With Courage and Hope appeared first on Time-Warp Wife.
Read more: timewarpwife.com