Daily Devotion – I'm Just Simply Sharing Love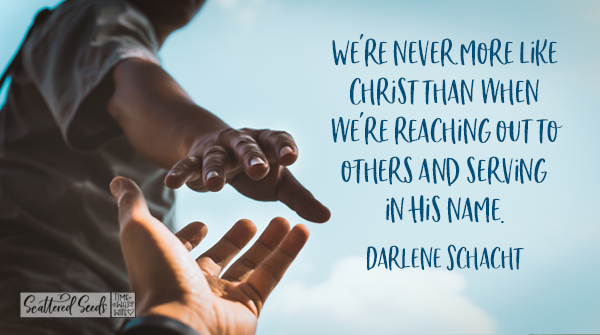 Back in the day, my parents would say, "Do as I say, not as I do," which come to think of it doesn't make all that much sense. As I grew up and had my own children, I started to see that my actions had more power than my words ever did. It would seem that kids aren't listening to what we say, half as much as they're watching the things that we do.
As I got to thinking about that today, I was reminded of a story I once heard about an American Soldier at the end of World War 2. The aftermath of war left little to be desired in the streets of London. The buildings were in shambles the air was dusty, and orphans wandered homeless in the streets.
As the soldier was driving his Jeep back to the barracks, he noticed a young boy. His hair was disheveled, his clothing was torn, and with his nose pressed up to a window he was fixated on something inside . Pulling over to the side of the road, the soldier stepped out, and saw a baker kneading dough in the window of the shop.
"Would you like, some doughnuts?" He asked the young boy.
"Oh yes, sir. I would!" He exclaimed.
And so the soldier returned with a bag of warm doughnuts, handed them off to the boy, and returned to his Jeep.
Just as he was about to step inside, the soldier felt a tug on the back of his jacket.
Standing there with the warm bag of doughnuts cradled in his arm, the boy asked, "Mister, are you God?"
"No," I'm not God, the soldier smiled, "I'm just simply sharing love."
We're never more like Christ than when we're sharing love, are we? We're never more like Christ than when we're reaching out to others and serving in His name.
Subscribe so you don't miss a post:

Tilling the Soil
Look for ways to serve this week.
Planting Hope
Whoever is kind to the poor lends to the LORD, and he will reward them for what they have done. (Proverbs 19:17, NIV)
Your donations help to support this ministry as we share the gospel with over 500,000 women around the world. Click here to donate

Darlene Schacht and her husband Michael live in Manitoba Canada where the summers are beautiful and the winters are cold. Together they've come to learn that relationships aren't always easy, but that marriage, the way God intended it to be, is a treasure worth fighting for.
She began her publishing journey about twelve years ago when she pioneered one of the first online magazines for Christian women, known at the time as "Christian Women Online Magazine." After three years, Darlene left CWO to blog as a solo author at Time-Warp Wife Ministries.
It was also during this transition that she worked alongside actress Candace Cameron Bure to write the NYT Best-Selling book, Reshaping it All: Motivation for Spiritual and Physical Fitness. Reshaping it All was the winner of both the 2011 USA Best Book Awards and the 2012 Christian Reading Retailers Choice Awards.
Author of more than 15 books, Darlene continues to write and to minister to her readers through her blog at TimeWarpWife.com.
Connect with Darlene:
Facebook: @timewarpwifeInstagram: @timewarpwifePinterest: @timewarpwifeTwitter: @timewarpwife
You are loved by an almighty God,
Darlene SchachtThe Time-Warp Wife
Read more: timewarpwife.com