Daily Devotion – The Value of Virtue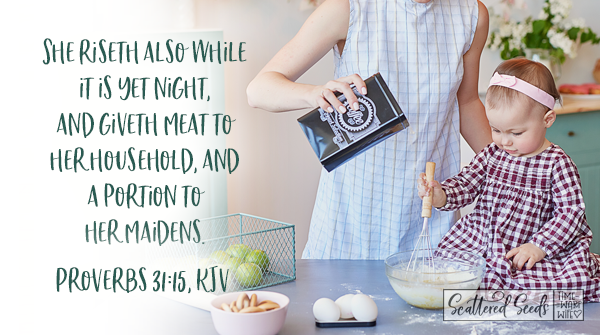 When we think of virtuous women we often picture them as being loving, generous and kind; women who reach their hand out to the poor, lead their children in faith, and provide food for their family. What I tend to overlook when examining the lives of virtuous women is that they also exhibit a high level of self-control.
And so we read,
She riseth also while it is yet night, and giveth meat to her household, and a portion to her maidens. (Proverbs 31:15, KJV)
I'm not a morning person, so I can't begin to tell you just how impressed I am with this. I'm sure if I was sitting down to have tea with her I'd ask, "What? You get up at what time?!"
I practically said that exact thing today when I was chatting with one of my neighbors. She has the most obedient, fun loving dog I've ever seen. He's a big teddy bear if I've ever seen one. The minute he sees you, Willis will flip over on his back and wait for a belly scratch. I love that guy!
So today I noticed that he doesn't as much as flinch when another dog walks by. He's always outside without a leash and never leaves her side unless it's for a belly rub.
"How did you get so lucky?" I asked, as I bent down to scratch his tummy.
"Oh, it wasn't luck," she said. "We got him at six weeks old, and for the first month I got up every morning an hour earlier than the kids to train him. I'd take him outside and show him where his boundaries were and what we expected of him. I had to be on him 24/7."
I had already thought this woman was pretty much perfect in every way, but this one cinched it. She cooks like Rachel Ray, decorates like Martha Stewart, and works out like Jillian Michaels. Now she's got a dog that puts Lassie to shame. It's no wonder her husband is always smiling.
Getting up is one thing, but what we're really talking about here is virtue. We're all a work-in-progress as we strive to put will over want. Whether we're talking about appetite, over-spending, laziness or losing our temper, we all benefit when we exercise virtue.
If you value a clean home, do the leg work it takes to get there. If you value your faith, then nurture that faith by opening your Bible more often and taking time out to pray. If you value your marriage, actively work on your relationship.
Whatever it is that you're struggling with, make every effort to be self-controlled. That's when you'll notice results!
Excerpt from Messy Beautiful Love: Hope and Redemption for Real-Life Marriages. Used with permission by Thomas Nelson
Subscribe so you don't miss a post:

Tilling the Soil
Read Proverbs 31.
Planting Hope
She riseth also while it is yet night, and giveth meat to her household, and a portion to her maidens. (Proverbs 31:15, KJV)

Darlene Schacht and her husband Michael live in Manitoba Canada where the summers are beautiful and the winters are cold. Together they've come to learn that relationships aren't always easy, but that marriage, the way God intended it to be, is a treasure worth fighting for.
She began her publishing journey about twelve years ago when she pioneered one of the first online magazines for Christian women, known at the time as "Christian Women Online Magazine." After three years, Darlene left CWO to blog as a solo author at Time-Warp Wife Ministries.
It was also during this transition that she worked alongside actress Candace Cameron Bure to write the NYT Best-Selling book, Reshaping it All: Motivation for Spiritual and Physical Fitness. Reshaping it All was the winner of both the 2011 USA Best Book Awards and the 2012 Christian Reading Retailers Choice Awards.
Author of more than 15 books, Darlene continues to write and to minister to her readers through her blog at TimeWarpWife.com.
Connect with Darlene:
Facebook: @timewarpwifeInstagram: @timewarpwifePinterest: @timewarpwifeTwitter: @timewarpwife
You are loved by an almighty God,
Darlene SchachtThe Time-Warp Wife
You just finished reading Daily Devotion – The Value of Virtue! Consider leaving a comment!
The post Daily Devotion – The Value of Virtue appeared first on Time-Warp Wife.
Read more: timewarpwife.com