New Girl: Nick's Zombie Novel Is Remarkably Similar To Twilight
In the early seasons of New Girl, Nick Miller is writing a zombie novel with a remarkable number of similarities to the Twilight series. Created by Elizabeth Meriwether, New Girl was a sitcom that ran on Fox from 2011 to 2018, centered around the dynamic between an eclectic group of roommates in their 30s sharing a loft in Los Angeles. In the pilot episode, bubbly schoolteacher Jessica "Jess" Day (Zooey Deschanel) moves into the apartment with slacker bartender Nick Miller (Jake Johnson), womanizing marketing associate Schmidt (Max Greenfield), and cocky personal trainer Coach (Damon Wayans Jr.), who was replaced by Winston Bishop (Lamorne Morris) in the second episode. Although the show was canceled following a brief seventh season, New Girl has found continued success streaming on Netflix.
As well as being a bartender who dropped out of law school, Nick is an aspiring writer, though he is often seen lacking the motivation and dedication to finish his projects. Near the end of the series, Nick eventually finds success writing a young adult detective novel loosely inspired by his own alter ego, Julius Pepperwood. Nick adopts the persona of this Chicago detective to go undercover in a writing class taught by Jess in New Girl season two episode, "Pepperwood." In the early seasons of the series, Nick also often talks about a zombie novel he is working on, though the season two episode, "Eggs, reveals his propensity for procrastination.
Related: Every New Girl Actor In Netflix's Hoops
When Nick meets Jess' father Bob (played by Rob Reiner) in the New Girl season two episode, "Parents," he shares details about his zombie writing project, revealing similarities to another popular book series. As Nick describes the elements of his novel's story, Bob recognizes a resemblance to the Twilight Saga, a popular series of books written by Stephenie Meyer. Although Nick initially rejects any connection between the two, it turns out that he has very little knowledge about the vampire-driven fantasy series.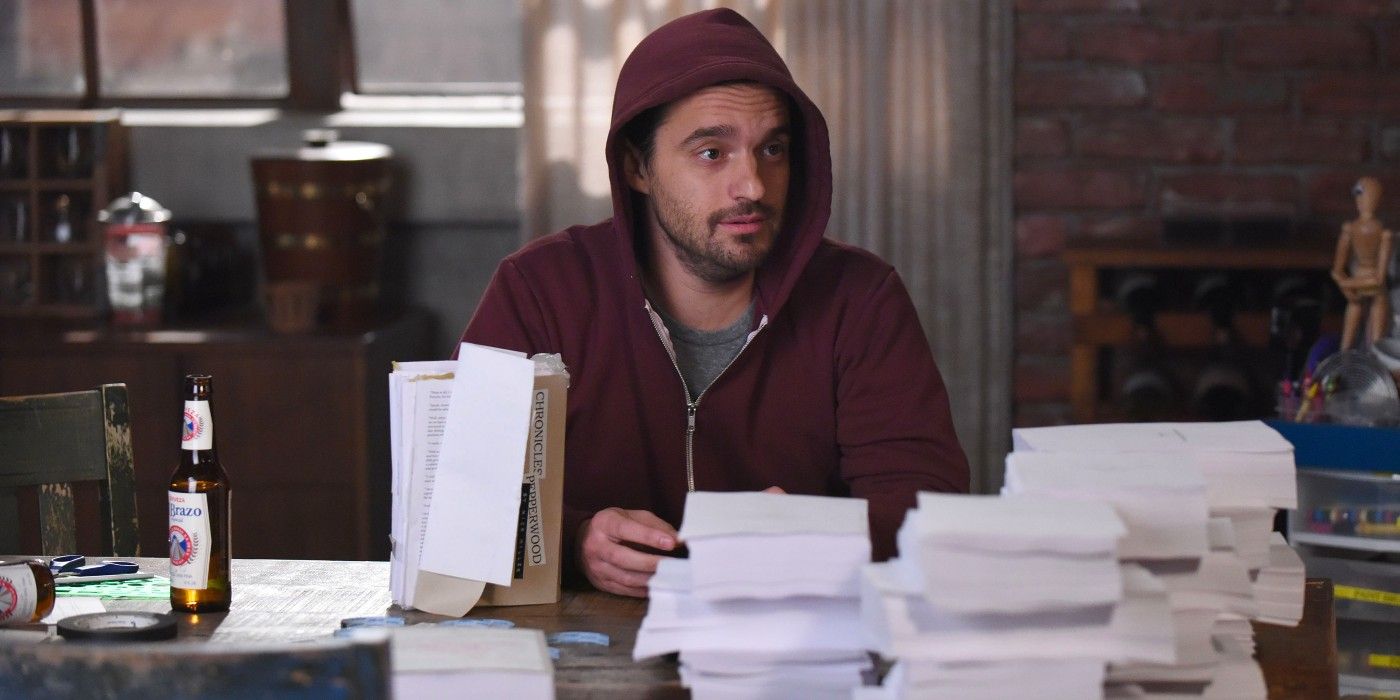 Although Nick's book is about zombies, he is adamant about it being "a relationship story." The love story at the center of the narrative is between a zombie and a human character named Carol, which Nick believes could potentially be made into a movie. This resembles the vampire-human love story at the center of Twilight, which was adapted into an extremely successful film in 2008. The sequel books and films are also references in Nick's zombie novel, which he reveals also contains a love triangle. Twilight: New Moon famously features a love triangle between vampire and werewolf, who are competing for the human protagonist's attention throughout the second book in the series. Even Nick is taken aback by the news that Twilight has a werewolf, as his novel also contains a wolf character.
As Nick begins to recognize the commonalities between his novel and the popular young adult series, he questions what city Twilight takes place in. Upon discovering that like his own novel, Twilight is set in Seattle, he simply responds that "whoever wrote that is smart." Nick's complete ignorance of Twilight is a joke about his character's obliviousness to pop culture but is also evidence that he did not intentionally imitate the successful book series. This may also be a reference to a lawsuit filed by Stephanie Counts and Shari Gold in 2014 claiming the premise for New Girl was a rip-off from a script for a similar TV series. The lawsuit was eventually dismissed by the judge, a ruling that showed Elizabeth Meriwether was no more familiar with the similar series than Nick was with the Twilight franchise.
Next: How Much Time Passes In New Girl (Including Time Jumps & Flash Forwards)
Read more: screenrant.com