I have decided to start my 2019 with a bang! Our No Spend October led to an incredible last quarter for us financially. Some of my financial highlights from the last few months were:
Saving $1,700 for a Thanksgiving trip to Texas
Paying an extra $2,500 toward my tax debt
Putting $1,000 more towards my EF
Why Another No Spend Month?
With that being said, I have decided to do it again. Here are my thoughts on why this is a great month to do it:
My pantry is stocked with the last of our food stamps.
All of the kids have their winter clothes in order.
There are no kids activities until the middle of February. (Princess is going to play on a rec volleyball league beginning mid-February.)
It's cold and rainy outside so staying home is always a great idea.
The new semester of school is starting, with all three in college classes, so they will need study time.
And there are no holidays or birthdays coming up.
It's the perfect time to do another No Spend Month.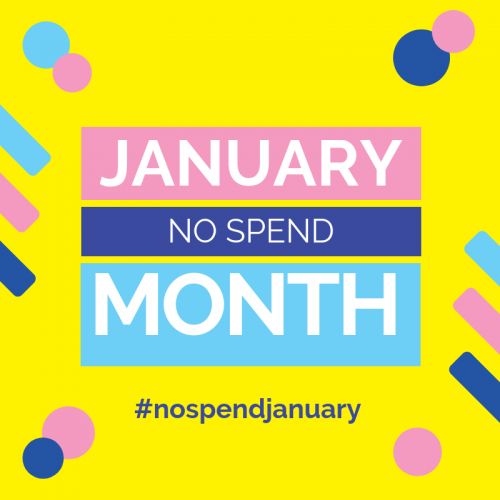 Having the motivation to meet or exceed my last debt payoff prediction, and it being the first of a new year which always means new beginning and new hopes for me, it's a great time for me to laser focus on work. Not only continuing with my current workload but also expanding and growing as well.
What is a No Spend Month?
What this No Spend Month will look like:
Other than paying the month bills, there will be no extraneous spending (no eating out, no entertainment, no shopping.)
No grocery shopping unless absolutely necessary. We will essentially eat through the pantry as much as we can. (Which is going to mean more Chicken Noodle soup than any of us like since I accidentally bought two cases instead of one.)
All budget money that is not a monthly bill just gets stockpiled.
There are two exceptions to the No Spend rule though:
My car is due for an oil change and tire rotation. So that money will be spent this month.
I have to register Princess for the rec volley ball league staring in February this month. I believe it will be about $60.
My goal is twofold:
Stockpile money without thinking about it since I try not to look at the bank accounts during no spend month (so I'm not tempted to make rash decisions.)
Grow my business by being laser focused on work and homebound without distractions.
I will tell you this now. I may have already mentioned it. We are planning to go back to Texas for the kids' Spring Break. It is not in my budget. And I'm going to have to put some thought into it. Before you say "Oh, Hope, not again," my mom's health is not good. I don't want to have any regrets for not being there. And I don't want my kids to have those regrets. That is the sole reason I will make that trip again. There are just some things that are worth more than money.
Want to join me with #nospendjanuary? Use the hashtag on your Instagram to share your money saving, free entertainment and financial wins through January. Follow the hashtag #nospendjanuary and encourage others on this debt free journey!
The post No Spend January appeared first on Blogging Away Debt.
Read more: bloggingawaydebt.com