Truth: Getting Hired Over the Holidays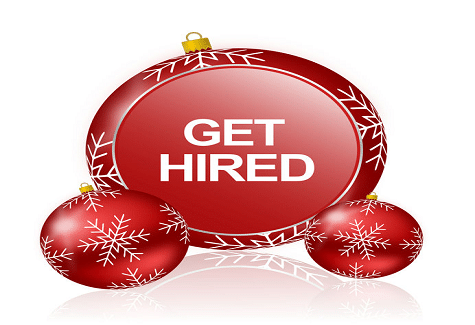 Truth: Getting Hired Over the Holidays
Is this the voice in your head?
"No one is hiring at this time of year!"
I am here to tell you that it's NOT true.
This time of year is when you get to have FUN with the job search process.
With the endless amount of networking opportunities available, the holidays will bring up many leads to pursue, and an abundance of opportunities to expand your network (yes, even for you, introverts).
However: Networking events are like anything else—if you show up without a plan or desired outcome, you're probably going to come away from the event thinking, "Wow, what a waste of time."
Like it or not, if you spend the entire time following around the trays of canapés, you're missing the entire point.
Here are a few tips for you —
*Do your research beforehand,* and make sure the event you've got in mind is one that will benefit your goal, whether personal or professional. Even if just want to have fun, make sure you know that's your intention.
*Gravitate towards the positive people,* steering clear of the 'bah-humbug' crowd. It's imperative to stay positive during the holidays. I am all for helping people who are down with a little pick-me-up. But if you feel someone is just a Debbie Downer who is going to bring you down with him/her, then find someone else to chat with, learn about, and help. This is networking not therapy. Help someone who wants your help.
Perhaps most importantly…
*Be curious.* Ask questions, and learn about problems and opportunities within your contact's industry. Make mental notes of items to research and explore after the event.
You never know, if you follow up properly and develop a relationship… simply being curious at that one event could be the thing that leads to your next job.
And, if you want a little extra help finding a job during the BEST time year to be on the hunt (while most people take two months off)…
Click here to grab a copy of my new hot-off-the-Internet-press eBooklet, "Get Hired During The Holidays" … it's $9.97!
Not only does this booklet outline the MOST important holiday networking strategies, I have also outlined the exact templates you will need for the many, many follow-ups you are going to want to send.
These templates are going to deepen every single connection you make this winter and will absolutely be the start of something beautiful.
As a bonus, I have also included my best-selling Job Landing Mindset eBook too. At Chameleon, we firmly believe that you have to have the mindset of success and so this book gives you every single motivation hack I can think of. You'll be confident and assertive and what's more… a blast to be around during every party and event.
These two eBooks will help you put your next job under your tree this year so you can start the New Year with a new position (rather than just getting started… along with everyone else).
Get a jump on your job search here:
Be well!
Lisa
Lisa Rangel – Executive Resume Writing Services
Chameleon Resumes
The post Truth: Getting Hired Over the Holidays appeared first on Chameleon Resumes.
Read more: chameleonresumes.com